What does 100 ounces look like?
Editor's Note: This was originally published in January 2013 and has been reviewed & updated to provide you with the most current content!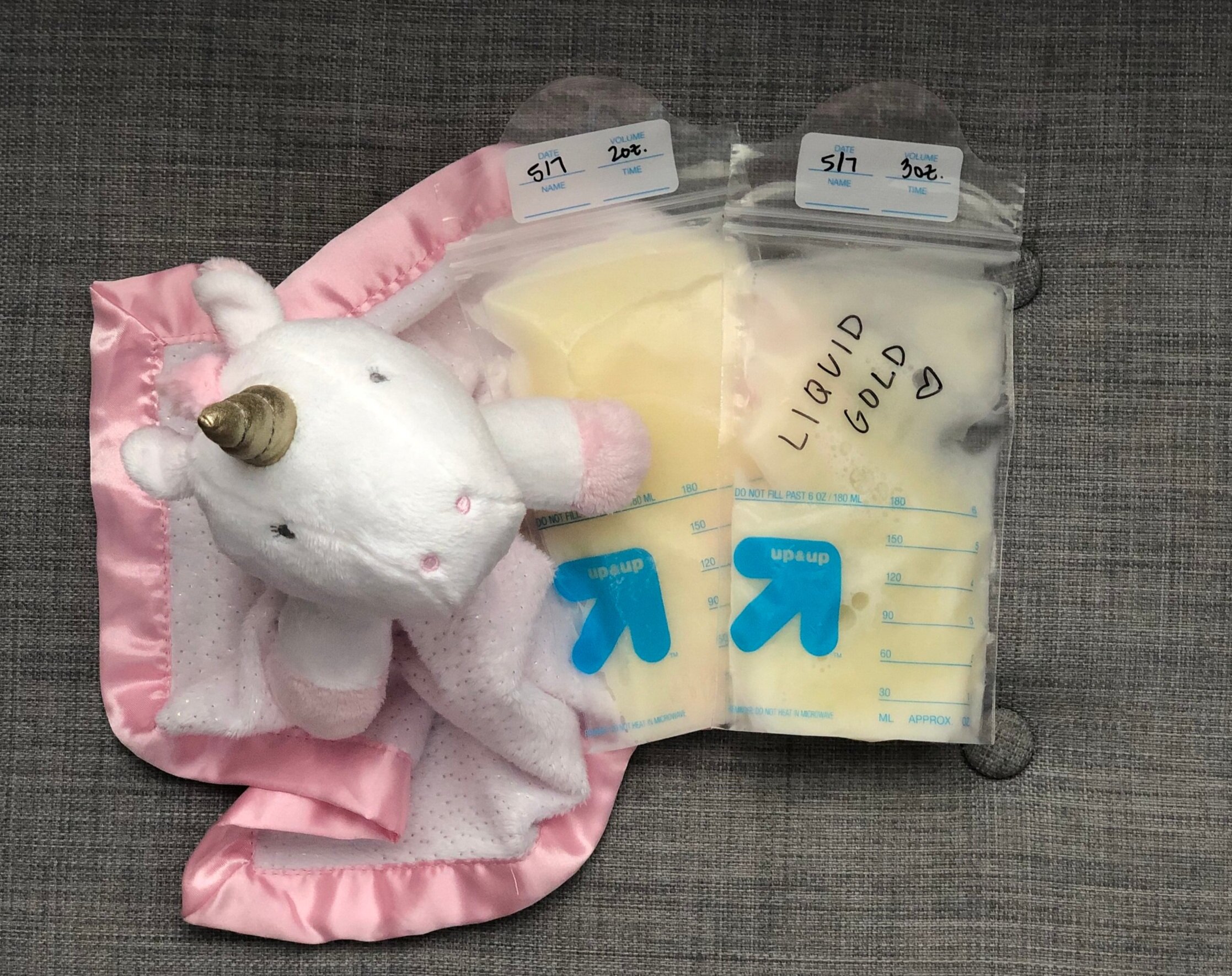 We often hear, "I wish I was an over-producer so that I could donate!"  But we're here to set the record straight – you don't have to be a world-record holding over-producer to donate 100 ounces!
Once a successful breastfeeding routine has been established, there are many situations in which a mom might find herself with extra breast milk. A common scenario we hear about, are parents pumping on a schedule while away from baby – either at work, or during a NICU stay – who end up storing more than they can fit in their freezer!
At The Milk Bank, we ask most milk donors commit to donating 100 ounces of extra breast milk by baby's second birthday.
Some donors make a one-time donation and others donate over time. Interestingly, this time frame is regulated by states and not all milk banks are able to accept milk up until baby turns two!
So what does 100 ounces look like ?
100 ounces may sound like a lot, but that's twenty 5 ounce storage bags! For a visual, here's a look at about 100 ounces flat packed in 6 ounce bags.
Follow us on social media so you don't miss our upcoming series of what 100 ounces looks like – we're @themilkbank on all the channels. Hint: it will include coffee!
It's important to note a really special exception.
At The Milk Bank, we have a bereavement program called Garrett's Gift, for those moms who are donating milk in loving memory of a baby they've lost. These precious gifts of milk have no restrictions or minimum amounts.
You can learn more about our Garrett's Gift Bereavement Program and read about one of our bereavement donor families.
If you have extra breast milk, talk to us about donating today. Give us a call or if you're ready, click here to become a donor! Our pre-screen is now online & takes less than ten minutes to complete!
Make no mistake, we appreciate ALL milk donors. No matter the number of ounces, we know pumping is hard work and a labor of love! Every ounce of donor milk can have a lifesaving impact on fragile NICU preemies, and has lifelong, positive public health impacts. That's why we say #EveryOunceCounts.
Don't have extra milk to donate? No worries – EVERYONE can give an ounce and be a lifesaver like our donor moms! Donate $4.85 – the cost to screen, test, analyze and pasteurize one ounce!