Review by Leah, a breastfeeding TMB staff member, who sometimes pumps after a workout while waiting in her son's school car line
April is National Donate Life Month, and what better time to review a few breast pumps — the instruments that allow us to express nature's best life-giving resource? Research shows that human milk contains growth and immune factors that can protect immature tissue, promote maturation, particularly in the gastrointestinal tract, and promote healing of tissue damaged by infection.
The Milk Bank receives human milk donations from hundreds of lactating women across the Midwest. Using a breast pump is commonplace for these donors, and there are many types of pumps on the market.
During the last few weeks, I have tested five popular breast pump models. Until now, I have only used the Medela Pump In Style for both of my children. While it has many wonderful characteristics, I wanted to see what else is available. Here is my personal review of the following:
Ameda Finesse
Medela Harmony
Medela Pump In Style
Spectra S2 Plus
Unimom Minuet LCD
Two big findings:
1) I didn't know until this project that there were two different types of pumps: open vs. closed. I found I prefer the closed system, in which the pump has a barrier between the air/suction and the milk. Kelly Mom has a detailed article about the two types of pumps for further information.
2) Sound level wasn't as much of an issue for me as pressure and vacuum levels. This indifference amused me because many people complain about the decibel rate of pumps. *shrug*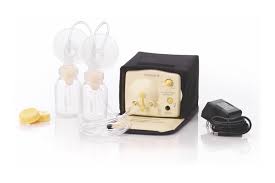 Medela Pump In Style
Why I like it: Frankly, I'm accustomed to it (after using it over 7 years!). It's portable, and some models are built within a handy tote, which looks discreet and can carry all your parts. Medela is widely available, and you can locate replacement parts in stores and online.
Things to note: It's noticeably loud, so if you're trying to maintain privacy, it can be a challenge! It's also an open-pump system, so there is potential for contamination. Clean your parts regularly!
Bottom line: This is a beast of pump and will last throughout your pumping journey.
Medela Harmony (Manual)
Why I like it: Cheap, small and discreet. It's perfect for using in the car on a road trip (and sometimes in car line at my son's school)! Now it lives in my gym bag. I like that it uses standard Medela bottles, which I already have in plenty from my Pump In Style.
Things to note: It's not a pump to use on the daily – it's intended as a backup. If your pump's "o-ring" part gives out, it won't work because the Harmony requires this part of the handle to establish suction. However, you can find replacement parts relatively easily.
Bottom line: You won't regret spending a small amount on your Plan B Manual Pump.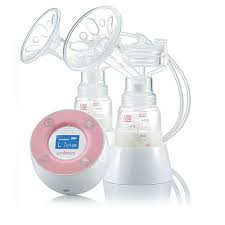 Unimom Minuet LCD
Why I like it: It's super small, chargeable for on-the-go and has fantastic massage inserts! You can cycle through several massage and pressure options to find what you like best. The charge lasted long enough for a few pumping sessions, and it comes with an A/C adapter for versatility.
Things to note: The vacuum and pressure on this pump seemed less than others I have tried, and I had to remove the massage inserts to be productive. With the inserts, it took twice as long to pump. Though it's marketed to be compatible with universal bottles, I was unable to use my Medela bottles with this pump.
Bottom line: A tiny option packed with unique features for a great price.
Spectra S2 Plus
Why I like it: There are many settings, speeds and modes to adjust to your liking. It's quiet (I was able to pump during a meeting and it wasn't obvious!), and as a closed system, the milk never comes into contact with the pump mechanism. It also has a lighted digital display. It's a budget-friendly price for a highly-rated pump.
Things to note: The bottles are wide-mouthed and are compatible with others of this size. Or if you have a ton of smaller bottles like I do, you can find a handy bottle neck converter and other Spectra parts online. I was surprised that I had to use one of the highest settings to get a good "latch."
Bottom line: If I could do it all over again with the knowledge I have now, I'd likely select the Spectra S2 for my go-to pump.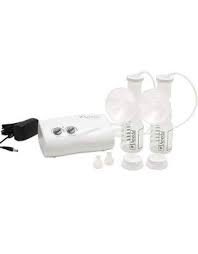 Ameda Finesse
Why I like it: The Finesse has a closed system with relatively few parts. It's simple to use and assemble.
Things to note: The smallest flange size is 25mm, and for me, it's slightly too big to be comfortable for regular use. It's not as loud as the Medela Pump In Style, but might not be the pump to use while you're on speaker phone. 😊
Bottom line: If you're looking for a no-frills, basic closed-pump system, this one is worth a look.
While we're at it, let's briefly talk about cleanliness. I know it may seem like a pain to wash and properly store your pump parts, but it's important — especially if you are planning to donate your milk. Using a microwave steam bag is an easy and quick way to maintain daily cleanliness. And if you're an active donor mother, we'll give you free bags! (Ask us how.).
The CDC has some helpful tips as well. Take a look.
Best of luck on your pump search!