He loves to do "science experiments."
By Leah Shattuck, nursing mom* and The Milk Bank staffer
There are so many types of breast milk storage bags. Some have screw tops, others have snaps or twists. Prices vary significantly, too.
My 8-year-old son loves to try experiments around the house, and we decided to do one together. We used samples of milk bags I had collected to see if there was a significant difference between them. When you're used to using one brand, you might not easily see the reason to change it up, which was my situation.
The bags tested are:
We filled each of them with around 6 ounces of milk and threw them on top of each other in our upright freezer in the garage for several weeks. Then we made some comparisons.
| | Ameda | Lansinoh | Milkies | Purity |
| --- | --- | --- | --- | --- |
| Storage amount | 6 oz | 6 oz | 7 oz | 6 oz |
| Upright/standing | x | x | x | x |
| Reinforced sides | x | see notes | x | x |
| Easy to write on | x | x | x | see notes |
| Separate tear off | x | | | x |
| UV blocker | | | | x |
| Pouring feature | x | | | |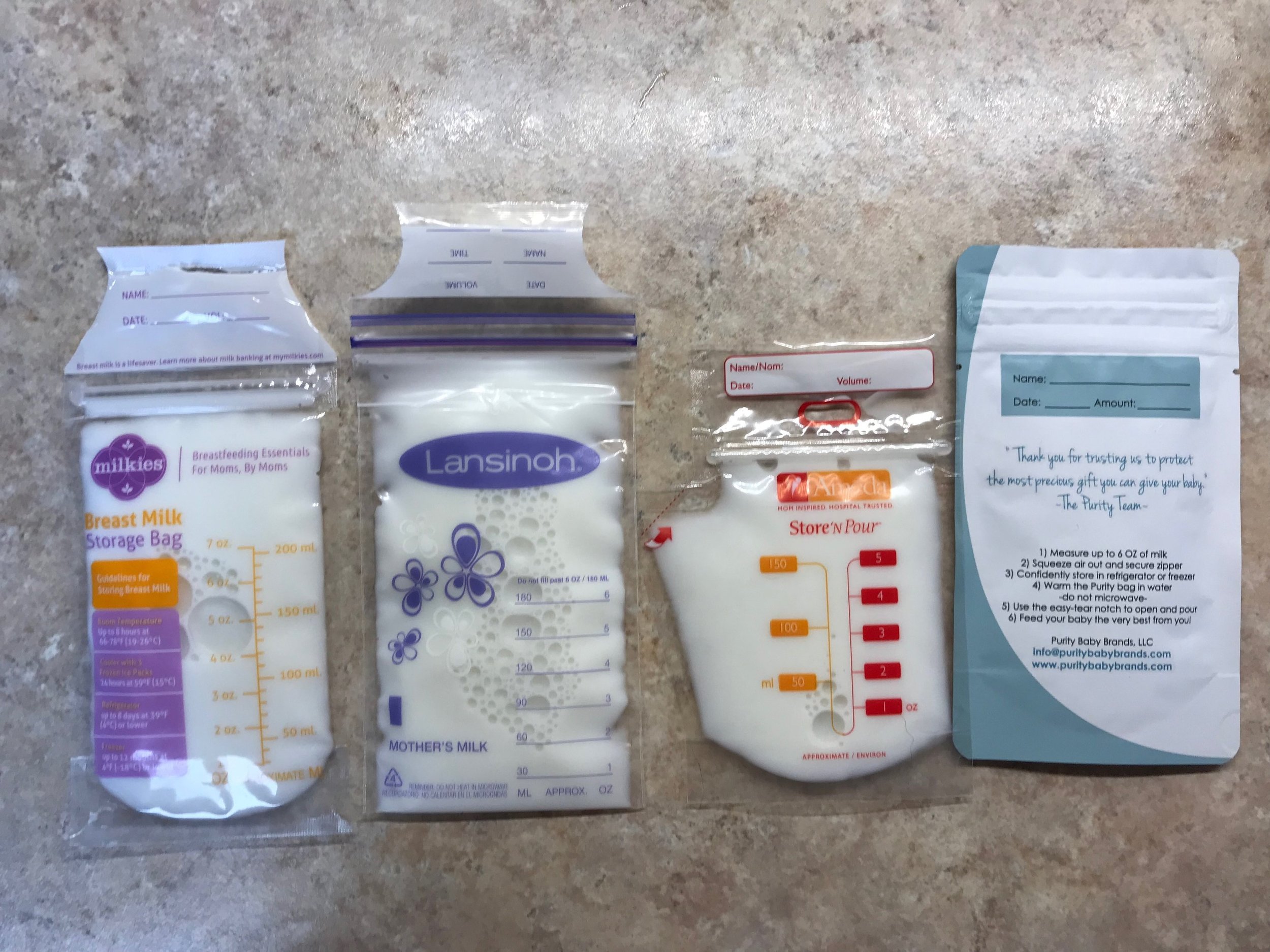 The Lansinoh and Milkies bags are similar with two slight differences: Milkies potentially holds more milk, and the zipper seal has reinforced sides, unlike Lansinoh's reinforced sides that begin below the seal. In my opinion, these features are minimal and entirely up to the user's preferences.
The bags I frequently used while pumping didn't have a separate opening after sealing the bag, as Ameda and Purity bags offer. After this experiment, I think I would have preferred this feature, knowing your milk doesn't touch the same surface twice. I liked Ameda's added "pour" feature, which makes the process of milk handling even easier.
I have yet to see a bag other than Purity that includes a UV light and oxygen blocking feature. This bag is thick and substantial. It feels unique. When you use Purity bags, make sure to label them before filling, as the labeling fields are smack-dab in the middle of the bag, unlike others located at the top. (Really, though, it's easiest to label pre-fill for any bag!) Thaw time took a little longer with this bag, too, probably because of the thick barriers.
I guess what I'm saying is, the cons are few with Purity bags. My milk feels protected and "fresh." I'd use the other brands if it came down to cost and availability, however.
Our personal findings favored one brand over others, but what about The Milk Bank? I'm not an active milk donor, but I was interested to see what our pasteurization staff think about different milk bags. I asked Kendra and Jami their opinions, as they handle bags every day.
"The cheaper bags will tear or rip in shipping," said Kendra, Pasteurization Technician. "They may not at home for personal use, but if you're shipping a bunch [to The Milk Bank, as a milk donor], they're basically like pointy rocks and can get everywhere."
Punctures to bags may not be noticed while the milk is frozen. However, pasteurization staff lay out frozen bags of milk on trays to partially thaw in a controlled environment before the milk is transferred to flasks, and during this time, holes can be evident.
"If there are any leaks, I'll know – right there on the tray," said Kendra.
What should a mom look for when choosing milk storage bags?
"Thickness is key," said Kendra, hinting back at leakage issues. "Look for bags with reinforced sides. They're hard to freeze 'wonky.'"
"It's worth it to pay more for a better storage bag. Your breast milk is like gold, and whether or not you are donating your milk, you don't want to waste any of it."
Do you have a personal favorite brand of milk bag?
"Try Purity bags," said Kendra, of the bag I mentioned above. "We give them out to approved donors."
Though the bags can be difficult to find or purchase, The Milk Bank does offer packs of 25, free of charge, to milk donors. Order them here.
Are there best practices when storing milk in the freezer?
"Laying flat is best," said Kendra. "You've got more room for more milk bags because freezing it this way takes up less space. If you stand them up to freeze, they get thicker and bulky, which ultimately means we have less space in our storage and freezer."
"And it thaws more evenly, which is super important," adds Jami, Production Director. "If some of the milk is warmer [than other areas], you're opening it up to temperature danger zone. It's safer if it thaws at an even temp."
"Another common problem is overfilling," said Kendra. "Ice expands [and can cause leaks], so use what is recommended on the bag itself – most of them are about six ounces."
What about labeling bags? Is it a big deal?
"Label your bags before you fill them," said Kendra. It's easiest to write on empty bags. "Use the oldest date first, and keep your [newly frozen] bags in the back, so that you're always rotating."
"If you're a milk donor, date it [and include your donor number], but the time of day doesn't matter," said Kendra.
Though some research shows that certain components in milk vary depending on the time of day the milk was pumped, The Milk Bank pools such large quantities of milk together that timing doesn't make a difference in pasteurization.
"For our purposes, date is most important [than time]," said Jami. "We're mixing a large capacity from several donors, and any affecting levels [of components] are diluted."
Jami and Kendra emphasize that regardless of your storage bags and freezing habits, The Milk Bank won't turn you down.
"No matter how you stored your milk, [if you're an approved donor] we'll accept it," said Kendra. "This is not to tell you you're doing it wrong; there are more efficient and safer ways for what we do."
If you have questions about safe handling and storage best practices, The Milk Bank can provide further education for how to safely handle and store milk for donation.
---
Do you have an extra bag to share with us for an art project? Jami is collecting storage bags of all brands, shapes and sizes, and we'd love to include one from you! Email engagement@themilkbank.org to receive a stamped envelope in which to mail your bag sample to The Milk Bank.
Interested in becoming a milk donor? Contact us today to get started.
*This experiment was completed while Leah was still nursing her now 13-month-old daughter.