For about six months now, people in the office have been making funny faces…
Co-workers are singing in high-pitched voices…
People pretend to disappear when their eyes are covered…
What is going on you ask? We've got an Office Baby – Rory!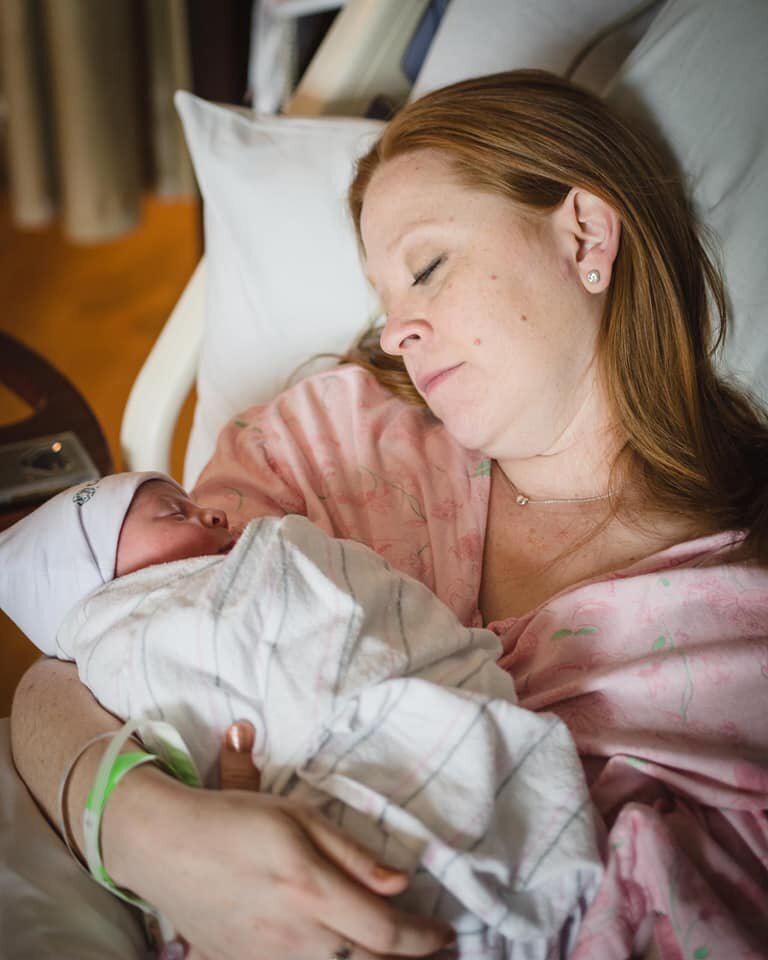 "Office Baby," is the term of endearment we give the breastfed babies that accompany their parent to work in their first six months. Rory isn't our first office baby, but he is our latest. As he now transitions out of his Office Baby role, Jennifer, our Office Operations Specialist sat down to talk about her experience of bringing Rory to work with her at The Milk Bank.
Jennifer is the first face to welcome you when you visit. She takes hospital and patient orders, handles couriers and deliveries, greets guests, keeps supplies in stock and much, much more! Jennifer is mom to two boys and a Butler graduate – go DAWGS!
Jennifer has been an advocate of breastfeeding and of The Milk Bank, long before she came to work here. She tells us about her early experience as a working and pumping mom, as well as what it has meant to bring her baby to work with her:
"My sister-in-law learned about The Milk Bank when her baby – my niece – was in the NICU. At that point, my husband and I began to learn about The Milk Bank and support them. When I had my first baby, I wasn't able to donate extra milk – that wasn't in the cards for me – but it was still important to get behind their mission and support them in other ways.
When I saw a job opening for The Milk Bank, I felt like it was written for me and it feels great to work somewhere where I can apply my skill set and be passionate about the mission as well.
I've always worked full time. With my oldest, I was pumping and sending bottles to daycare since he was 8 weeks old.  I even showed up at The Milk Bank with my breast pump (for a consultation) because I had no idea what I was doing!
Having to provide pre-measured bottles for daycare, there was a lot of worry about pumping and ounces and bottles. This time around, I felt like I could come back to work and be stronger because I did not have to worry about any of that – when he's ready to eat – he's eating, and I can still work. I have also had six months to establish my supply and not worry about it because he's been with me.
As Rory transitions to part time and I have to take time to pump – I'm noticing that it's actually more work and time away from my desk.  You'd think that when he's with me it might be more difficult to work – but it has been the opposite!
I'm thankful that there are laws that protect my right to pump and I'm thankful for the work environment that encourages me to take the time to pump – it's a lot of work! I recognize that not everyone is that lucky to work in an environment as supportive as The Milk Bank.
It was so great having him here. It made me happy to bring him to work with me.  I've been really fortunate to have an agreeable baby. He was an endorphin boost for everyone in the office."
-Jennifer
Endorphin boosts for sure – it has been a pleasure for everyone at the office to have Rory with us. We loved every screech and every smile. Over the years, we have welcomed several little ones who have joined mom at The Milk Bank. Our Production Director, Jami, wrote about her experience too & gave some advice on juggling work with a little one.
While the United States has made progress in supporting parents and protecting breastfeeding, the absence of job protected paternity leave, leaves employers to provide these protections. If you are passionate about these issues like Jennifer is – follow the United States Breastfeeding Committee to stay up to date and take action!
At The Milk Bank, we are proud to offer family-friendly policies and practices that support breastfeeding…having adorable office babies around is an added bonus!
Stay connected, and be the first to hear about any future job openings by subscribing to our newsletter!