You don't have to donate breast milk to support The Milk Bank! The lifesaving gift of our generous breast milk donors is supported by a team of people behind the scenes and in the community – volunteers, advocates, financial donors, funders – who all help demonstrate that there are MANY ways to support The Milk Bank's mission.
Like any nonprofit, we look to our community for advocates willing to donate their time, resources and talents to help us achieve our mission & vision. A role on the board exemplifies this type of service. As we reflect on our annual board retreat and prepare to recruit committee and board members for a new term of service, we want to say THANK YOU to our current board – industry and community leaders who serve us so well.
While it's no surprise that The Milk Bank's board and committee members are passionate about public health, it does surprise some to know that with the exception of the Medical Advisory Committee, board members do not have to be in the medical field!
Because of our work as a living tissue bank, the Medical Advisory Committee, currently led by Dr. Eka Akinola, reviews and interprets the latest research and guidelines from our governing body to ensure our lifesaving work is held to the safest standards.
Like any healthy nonprofit board though, our members use their expertise in a variety of diverse fields to safeguard our mission and vision.
Mission & Vision at The Milk Bank: Increase access to safe human donor milk in order to positively impacting public health and address public health disparities.
We are so grateful to the talented community leaders who donate their precious time, incredible talents and deep resources as board and committee members. We'd like to shine the spotlight on three of our board members who have recently given us a lot to celebrate!
---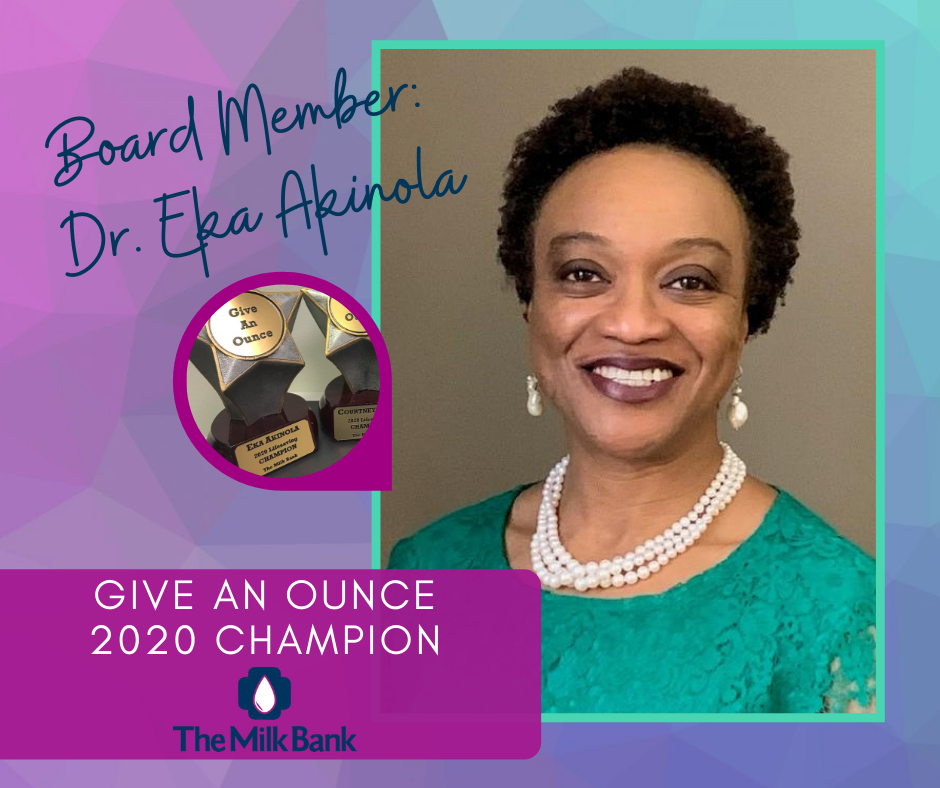 Dr. Eka Akinola
We launched or first virtual fundraising campaign this year, called "Give An Ounce: Save A Life" because it called on the public to join us in our fight to save lives, but donating $4.85, the cost to process ONE ounce of donor milk.
Because we love a little competition around here, the staff and board had a challenge to see who could lead the way in fundraising. While many participated, there was one board member who ran away with the prize! Our Medical Advisory Committee chair, Dr. Eka Akinola!
---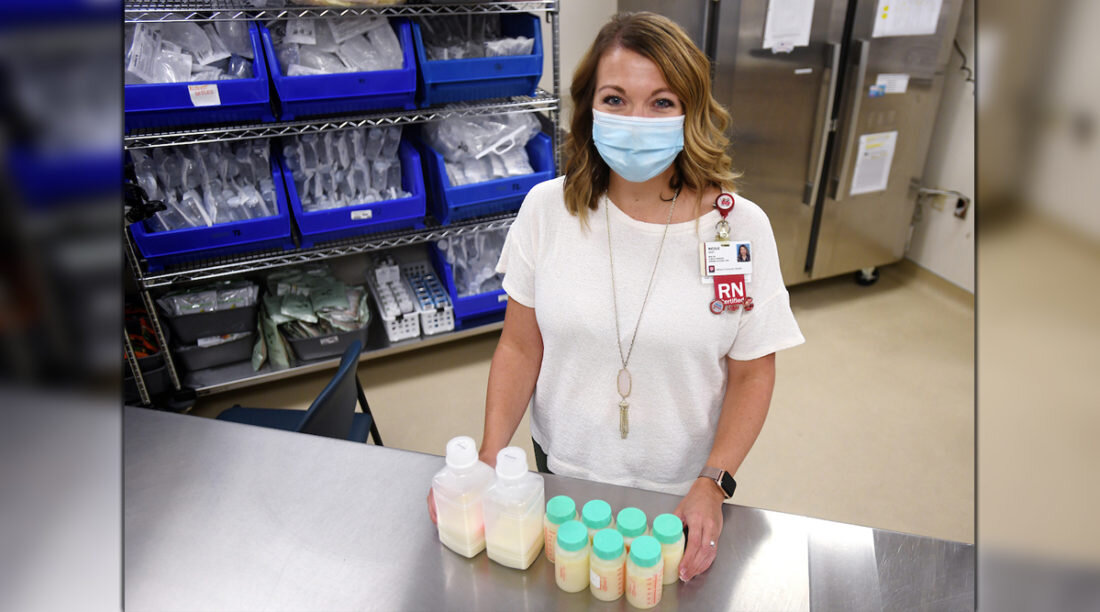 Nicole Geist
At Riley Children's Hospital, where she is the clinical nurse manager, Nicole Geist was asked to speak on a panel about her board service – to encourage nurses to use their expertise in this way! She was also recently interviewed about IU Health Network's support of nursing moms and the use of donor milk.
Additionally, Nicole is a milk donor as well. It's wonderful to have her donor experience to add to her clinical perspective.
---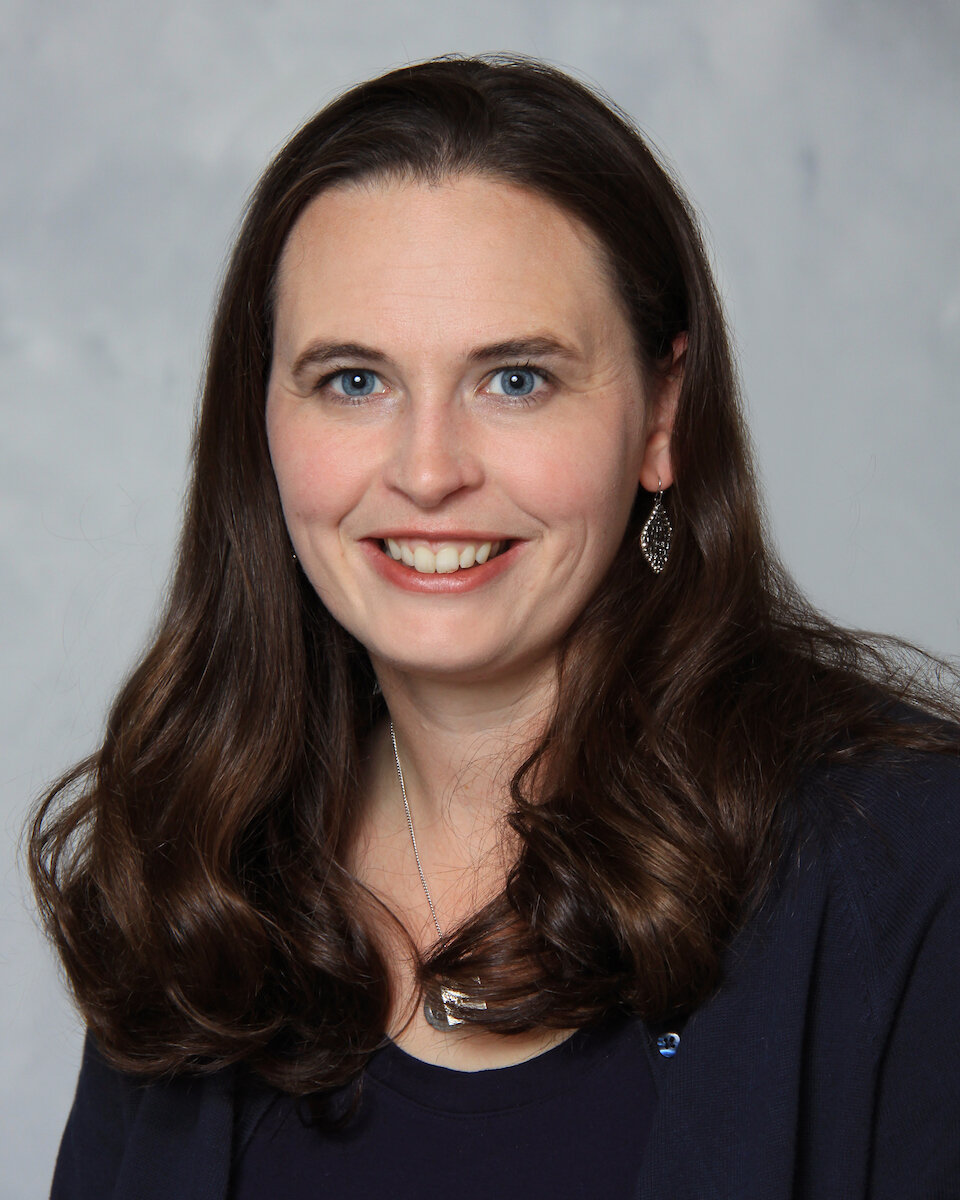 Dr. Emily Scott
Dr. Emily Scott, Riley Children's Hospitalist, was also featured in IU's recent article about breastfeeding support services and the use of donor milk in the NICU – it was amazing to see not one but TWO board members be featured!
Early this year, Dr. Scott was named to the Indianapolis Business Journal's 2020 Forty Under 40 list!
If you don't have an IBJ subscription to read Dr. Scott's 40 Under 40 profile, read her personal story and find out why donor milk is such a valuable resource.
---
Kim Donahue
Kim Donahue from Newgrange Leadership Transformation led our recent board retreat & described board members as "keepers of the mission." We couldn't agree more.
Head on over to our website to read about all of our incredible board members. If you are interested in using your knowledge and expertise to make a difference, find out what the next step is and learn more about what it's like to be a board member for The Milk Bank.