Megan Lee, a hair designer and stylist, is familiar with the highs and lows of a hospital neonatal intensive care unit (NICU) stay.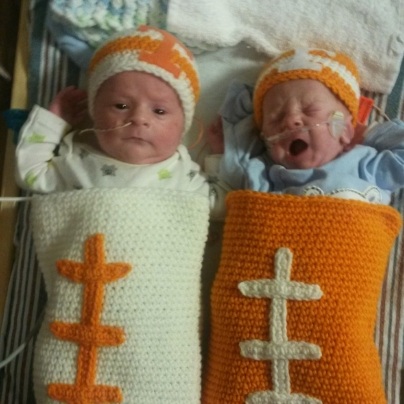 At 30 weeks pregnant, Megan's water broke, and she began to leak amniotic fluid. Two days later, Declan was born. His twin brother, Breck, needed assistance and was born six hours later via cesarean.
"Both boys were whisked away to the NICU immediately," said Megan. "But when I finally was able to hold them – and be somewhat mentally unclouded – I do remember a nurse telling me that they seem to be doing so well that we should be out of the NICU within a month."
The next four days were busy and enjoyable. The babies were small, but healthy. Megan was diligent to pump every two hours and spend as much skin-to-skin contact as possible with her new little boys, anticipating the day when their family could be together at home.
Then a doctor's gut feeling – based on Breck's fussiness – proved to be worrisome. An X-ray revealed a hole in his intestines, which required emergency surgery.
"I'm a gal that has anxiety, and at one point I wasn't sure if I was going to leave the hospital with both of my kids," said Megan. "It was the longest four hours of my entire life."
Breck recovered well, though Megan and the boys continued to endure peaks and valleys over the next few weeks. Megan knew he would need a follow-up procedure, and she was constantly worried about his health. Meanwhile, she continued to pump, but her limited supply caused her further stress.
"I felt like the biggest failure as a mother before I even really began to be a mom because I wasn't able to provide them enough [breast milk]," said Megan. "They asked me if I would be interested in donor milk. I thought it was the coolest thing that this resource was available to me. The Milk Bank helped relieve some of that anxiety and pressure on top of everything else."
Six weeks after their birth, Breck had another surgery to reconnect intestinal tissue.
"I had prayed to not let me feel like I did the first time. I just let go and let God [take over]," said Megan. "Breck came out of surgery, and I cried again because I knew I was leaving that hospital with both of my boys."
Megan believes her firstborn, Declan, prompted early labor in order to save his brother's life. She credits Declan's "actions" for contributing to their healthy first days after birth.
"Even after two surgeries Declan and Breck came home only two days apart – two months after they were born, and it was only a week after Breck's second surgery. It goes to show you that these babies in the NICU are truly great fighters and stronger than you could ever imagine."
__
Megan Lee is a guest of honor at 2019 Pints for Preemies on August 23, 2019. The 21-and-over fundraising event celebrates and support babies in hospital NICUs across the Midwest. Tickets are on sale at themilkbank.org/pints.