This Mother's Day, we want to say a special thank you to all the breastfeeding moms out there. The patience and perseverance to pump extra milk to share is one of the many reasons we are so grateful for our donors.  We cannot do our lifesaving work of improving health outcomes for preemies without these generous donor moms.  Once a donor is retired though, they remain an important part of The Milk Bank family!
One of our Donor Mother Coordinators, Lauren, shares more about the process of donor retirement: "We accept milk donations until baby's second birthday and some moms choose to donate for that length of time.  Other mom's make a one-time donation to clear out the freezer, while others donate for as long as their breastfeeding journey lasts. There is no pressure to donate for a certain length of time – it's always mom's choice. At whatever point mom chooses, they are retired."
Retired donors continue to help The Milk Bank by sharing their stories and educating their friends and communities about the process of becoming a milk donor and why it is so important. Other donors contribute financially or become volunteers. When donors are retired, the relationship doesn't end, it transforms!
Retired donor Erin, reached out to become a volunteer and is a great example of how donors continue to make a lasting impact. She shared what being a donor mom meant to her and the beautiful way she has honored her experience:
"Nursing and donating has been such a blessing for me and so fulfilling. I wanted to do something to commemorate this time of my life. I've never gotten a tattoo before because I never had anything I was passionate enough about to have permanently on my body. But I found a design that I loved and took it to an artist and he helped me make it into my own.

I wanted to incorporate the image of a mother and baby breastfeeding as well as my kid's names. I also wanted to work in the milk bank as a reminder to myself and to others of the blessing that donor milk was to us for our NICU babies and as a reminder of what I did to share with others."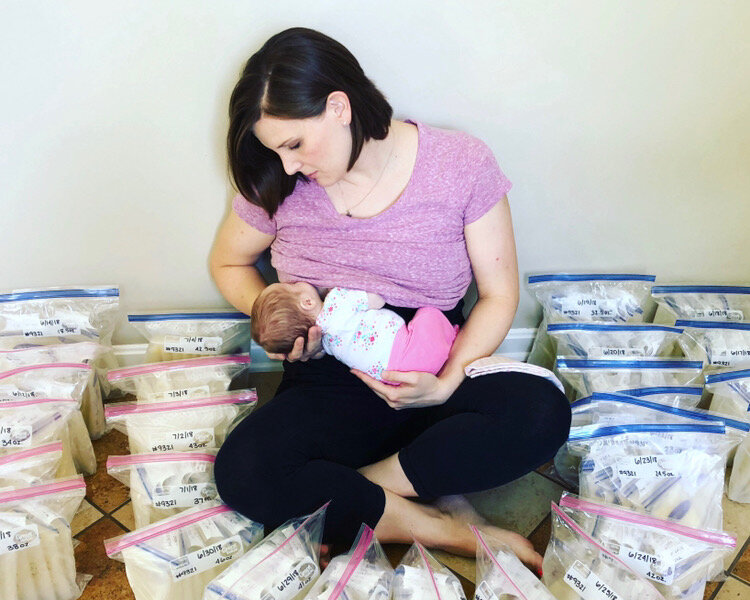 By sharing their unique life experience of being a milk donor with The Milk Bank, enables us to further our mission. While not all our donors will get a tattoo to commemorate the experience like Erin did, their impact is just as lasting!
Want to volunteer with The Milk Bank? Check here for more information!
You can be a lifesaver like Erin even if you don't donate milk. Your financial support helps offset the cost to screen, test, analyze, and pasteurize one ounce. Ensuring that the processing fee does not stand in the way of an infant who needs lifesaving donor milk at home.
---
The Milk Bank is a non-profit organization that promotes community health by expanding the safe use of human milk for all babies, especially premature and ill infants.